Municipal Flag of Chicago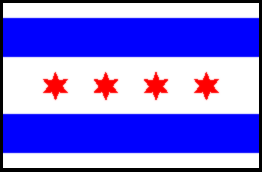 The municipal flag of Chicago is rife with symbolism. Most may know that the blue stripes represent the two branches of the Chicago river. And some may know that the four stars represent Fort Dearborn, the Chicago Fire, the and the World's Expositions of 1893 and 1933. But who knew that the points of each star as well as the white stripes have symbolism, too? Check out the Chicago Public Library's full explanation of the symbolism.
And for those that didn't know, the Chicago Flag was ranked the second best American city flag. How are flags ranked? Well, by the 5 basic principles of flag design, of course! Provo, UT is probably the ugliest one on that list, in my opinion. That thing is terrible!