Just over a week ago, on the afternoon of September 29th, I got married to my bride, Nancy Ross. The wedding ceremony was the happiest moment of my life, bar none. It still makes me cry to see photos of her walking down the aisle.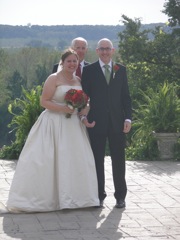 Everything worked out perfectly. The location, the photographer, the guitar player, the cupcakes, and even the weather. I don't have a single complaint with how it all went. Plus, Nancy and I were actually able to eat our dinner and have fun at the reception. I've often heard stories about the bride and groom not eating, or not being able to enjoy their reception. That was just not the case for us. We loved it.
We decided to take a minimoon afterwards, postponing the honeymoon until we can better fit it in to our work and personal lives. Since we got married in another state and were already staying at a bed and breakfast, we continued our stay at the B&B in Rocheport, MO for a few more days to decompress and walk the local trail. I'm so glad we did this, and I'd recommend it. We didn't have to worry about planning yet another thing, and we didn't have to get up early the next morning to to fly out somewhere. After getting home in the middle of last week, we decided to continue our minimoon and not start work again until yesterday. So it's back to reality, only now I get to share it with my wife, Nancy.